Quebec Cup Lac Philippe Spring Series
May 20th 2018 10:00am - 2:00pm
Map: Lac Philippe
Course Setter/Controller Marketa Graham, Robbie Graham; assistant Tomas Graham
This event is one of the club's Spring Series. See below for registration and start times. Please note - registration closes at 11am.
Come out and enjoy round 1 of the Quebec Cup in the beautiful Gatineau Park! (See below for a full listing of Quebec Cup events.)
The woods are beautiful and open. Triliums are out and trees are just beginning to bud so visibility is great. Wildlife sightings while controlling included a blue jay, a pileated woodpecker, three deer, and two wild turkeys... But no bugs!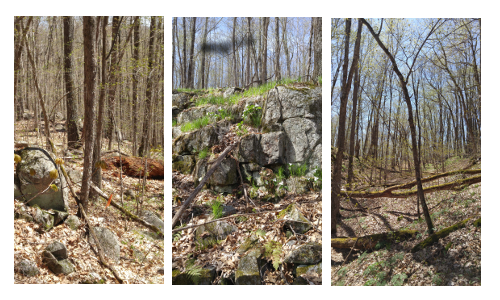 Parking and arena are at Breton beach. Standard courses plus an extra long advanced will be available. All courses cross the parkway at least once with the exception of the novice which runs along the edge for a short portion, please be cautious.
Novice - 2.5km, 11 controls
Intermediate - 3.2km, 11 controls
Short Advanced - 5.0km, 115m climb, 13 controls
Long Advanced - 6.6km, 170m climb, 16 controls
Extra Long Advanced - 9.5km, 225m climb, 22 controls
Robert Graham, Course Setter, Marketa Graham, Meet Director/Controller, and Tomas Graham, Assistant

This event will also be the first of the Quebec Cup/Coupe du Québec a series of 5 events held in various parts of Quebec by the 3 Quebec clubs.
Coupe du Quebec / Quebec Cup Series
Announcing the premiere season of the Coupe du Quebec / Quebec Cup Series showcasing the best maps and terrain in the province. This series will feature events of the 2018 Quebec Orienteering season with a goal to encourage travel to races throughout Quebec and events that will challenge Quebec's top competitive Orienteers.
This year Orienteering Ottawa and the Ramblers will each host two events (one in each of the summer and fall) and Azimut Laurentides will host one event in the summer.
This series is an excellent way to prepare for next summer's Canadian Orienteering Championships that will be held north of Montreal.
Event 2 Sunday June 10 at Mt. Royal held by Ramblers http://www.ramblersoc.ca/events/
Event 3 Friday August 3, 2018 Night-O Azimut Laurentides http://azimutoc.ca/events/
Event 4 October 6-8 OFest: Orienteering Ottawa OttawaOFest.ca
Event 5 TBD Ramblers
---
Location