Nakkertok Ski-O Winter Series
March 6th 2022 9:00am - 12:00pm
Map: Nakkertok South
Please note the earlier time!

Course setter: Robbie Graham | Controller: Marketa Graham
We are happy to be back and host a ski and snowshoe orienteering meet at Nakkertok South (45.533653, -75.720223). A combination of dense trail network, many junctions, one-way trails, hills, and tight turns offer challenging terrain for ski-O. Ski tracks are exceptionally well groomed for both classic and skate skiing. Those who opt for snowshoes will be treated to a score-O course through the snowshoe trails.
The map is freshly updated by Bill Anderson. With the recent dump of snow, all the trails are fully covered so the conditions should be excellent.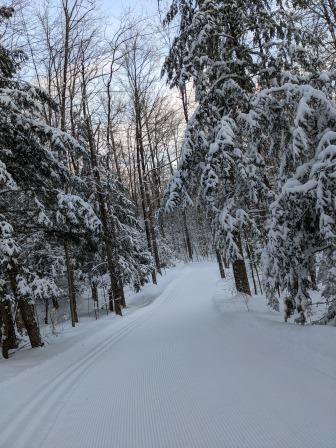 First time in a Ski-O? No problem! There will be Ski-O Intro Clinics at 9:15 am and 9:45 am to provide tips and tricks to newcomers.
Special rules:
Follow all one-way signage.

Snowshoers must stay off ski trails, only cross at junctions and do not step on classic tracks. Do not stop on ski trails, please move off to the side.

Be aware of your surroundings, especially when reading your map.
Registration: Please register using your member account from Thursday, March 3, 2022 to Saturday, March 5, 4 pm so we can print an appropriate number of maps. To register, log in to your ottawaoc.ca account and select For Members > Sunday Event Registration...
There is an additional fee of $10 per adult and $4 per junior for us to use the Nakkertok facilities and trails. These will be added at registration time (existing Nakkertok members need not pay this fee).
Pre-race check-in will take place in the timing hut on the far side of the stadium and will open at 9:00 am. Here you will get a map, a timing unit (SI) and you will be able to rent a compass. Starts are staggered, courses will open at 9:30 am and close at 12:30 pm.
The following courses will be available, with distances measured by shortest route:
Long Ski-O 12.4 km, 195 m climb, 16 controls

Short Ski-O 8.0 km, 115 m climb, 12 controls

Snowshoe Score-O ~8 km (to clear the course), 10 controls
Looking forward to seeing everyone on Sunday morning,
Robbie and Marketa
---
Location