Nakkertok Classic Meet Fall Series
September 29th 2019 10:00am - 2:00pm
Meet director: Cherie Revells; Controller: Rich Guttormson
This event is at Nakkertok Nordic Ski Centre just north of Gatineau. Drive north on Gatineau Avenue until you arrive at the parking lot. We have building access if the weather isn't so nice and there are also washrooms.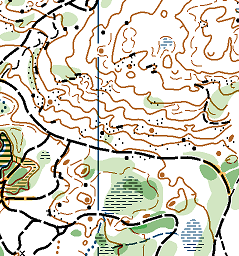 The map has been updated this Fall by Bill Anderson. Thank-you, Bill! The woods are nice - light green is runnable, dark green not so much. The marshes are quite dry. There are many small earth pits along the sides of the trails made by the large scoop of the trail excavators. These are not on the map. There are also tree markers that identify snowshoe trails that are not on the map as they are very hard to see on the ground.
The are many cross-country ski trails and the area is relatively flat, so the times should be much faster than at Fortune last weekend.
We have been advised that there may be an archery practice going on in the field next to the finish/registration area. Please stay clear of this area!
Courses
Novice - 2.2 km - trails only
Intermediate - 3.1 km - controls are just off trails
Short Advanced - 4.3 km - advanced
Long Advanced - 6.1 km - advanced
Usual timing applies:
Registration: 10:00 am – 11:00 am
Starts: 10:30 am – 11:30 am
Course closes: 2:00 pm (everyone must report to SI Download before 2 pm)
We have not encountered any ticks in the area but, as always, be wary of them and check carefully.

Hope to see you out on Sunday!
Cherie Revells (course setter), Richard Guttormson (controller)
---
Location